4th Eurasian WEEE Solutions Congress: Eco-CARBON Ltd. experts report 1st CATS, Car Recycling Solutions Congress
---
4th Eurasian Congress on Solutions for Waste Electronic and Electrical Equipment and 1th Car Recycling Congress was held on the 20-22th of March, 2019 in Moscow.
The congress was organized by the Swiss company Smart Rec in conjunction with the national partnership of scrap processing assosiation RUSLOM.COM. Representatives of leading waste-management companies, engineering plants, potential consumers of recyclable materials, state and regional authorities, international industry associations and experts met at one platform.
For WEEE and waste of transport, environmental and recycling fees are set out, since the components contained are difficult to decompose naturally and may contain hazardous components. But at the same time, this type of waste is a potential source of valuable materials. For example, according to Apple, in 2016 about a ton of gold was recovered when recycling broken gadgets, which made the company a net profit of $ 40 million.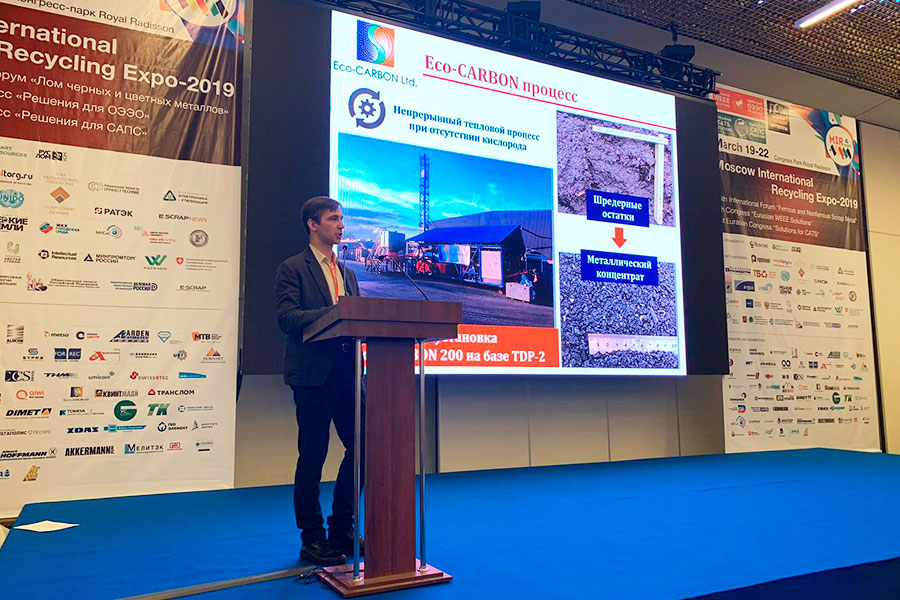 The WEEE Directive 2012/19/EU requires manufacturers selling electrical or electronic equipment, based on printed circuit boards, to countries that are members of the European Union to be responsible for the disposal of their products (electronic components, units, assemblies) at the end of the life cycle. The Directive limits the range of materials that are disposed of by landfilling. This applies to products containing valuable components. The directive allows them to be reused, and also obliges the equipment developers to more seriously consider the issues of environmental protection. This therefore obliges producers to look for the most efficient, safe and cost-effective ways of processing generated waste.
Eco-CARBON specialists presented to the guests and participants of the Congress their own technology for the disposal of shredder waste, which allows to extract recyclable materials with subsequent decentralized and autonomous use of energy contained in the crushed fraction. According to the proposed technology, the light fraction of the shredder is submitted for thermal processing at a mobile unit based on the Thermal Decomposition Plant TDP-2. The products of shredder residues pyrolysis are conditioned about 60% gaseous fuels with high calorific value, — and a dry residue with a concentration of pure metal up to 20% (iron, aluminum, copper, zinc, gold, silver, platinum, palladium). Thus, the proposed technology allows to recycle electronic and electrical equipment waste with maximum benefit for the enterprise and environment.